Services & Pricing
Great Events, Weddings & Parties!
weddings
We will make sure that your Ceremony and Reception are ones that you and your guests will never forget. Whether you want a traditional tone – a quiet and intimate ceremony or a party vibe, we can make it MEMORABLE.
other events
Whether you want a lively event with cool lighting, party props, and a crowded dance floor, or everything from celebration of a Sweet 16, Bar/Bat Mitzvah, Anniversary, Corporate or even School event – D&M has the DJs and entertainment that's just for you.
our team
We don't subcontract just any DJ for our events. Our Team is OUR TEAM. We have music of all sorts and the right tools for virtually any occasion imaginable. We employ the latest in professional audio/video equipment.
Our experience and equipment inventory will help GUARANTEE that you make a perfect Impression and "Have the Time of Your LIFE."
CUSTOM CONTENT
Working with the location of your event we will custom design a dance floor sound and light system that complements your wedding experience. We will work within your theme and color so it sounds fantastic and looks fabulous.
Custom Song Choices
We will collaborate with you so you will hear the soundtrack of your life and have an event bound for video stardom. You pick all the music for your day. From the start – the grand entrance – to the finish – the last song of the party, you can decide what the style will be. We have the expertise to guide you on what works and what might not. You will pick "must play" and "must NOT" play music.
FORMALITY AND EVENT DESIGN
Working with the location of your event and we will custom design a dance floor sound and light system that complements your whole wedding experience. We will work within your theme and color so it sounds fantastic and looks fabulous.
Our job is to make sure the event achieves your goals. We help keep all the elements – introductions, photography/videography, refreshments, and other activities on the proper schedule – and FUN!
WEDDINGS
Your family and friends rarely get to celebrate, dance, and party together. You've spent thousands of dollars and hundreds of hours planning your wedding. Your wedding is like a "LIVE" TV show, BUT there are no rehearsals at your wedding venue reception. Make sure you hire a professional DJ service – D&M lives by its motto – "You'll have the time of your life – GUARANTEED!"
We Do it RIGHT!
We bring the type of wedding personality you want.
Bridal Party Introductions
The DJ at your wedding will meet with you to make sure they pronounce wedding party names correctly. Once you select your bridal party, write the names and titles (bridesmaids, bride's mother, and others.) OR speak with your emcee before the reception and go over how to pronounce their names – correctly! Have a list and go over it with asking them to vocalize how they would announce your wedding party.
Interaction
Your extended family may be meeting some or all of the family of your other half for the very first time at your marriage service. The family may come from a different community culture or speak another language.
Our DJ will collaborate with you — by interacting with your various destination guests. Interaction doesn't mean just announcing line dances. Our experienced wedding DJ can find energetic individuals in the guests who love to dance and can get them to help encourage EVERYBODY to have a wonderful time.
Making it all Work
Your DJ will oversee all the proceedings – combining a knowledge of the music you want played with an outgoing personality that will make sure your reception is a hit!
Holiday Party Ideas
Corporate:
(Consider a tie-in to a local charity – "Your donation helps. Please share with friends and family."
A holiday party emceed by D&M can help your company connect employees to celebrate their accomplishments especially if most are in a remote working situation due to the COVID-19 pandemic.
Not only will we play great dance music at your event, we can host a themed interactive activity which can promote meaningful conversations among team members, both old and new, and young and old. Finally, party entertainment is a wonderful way to instill great memories for people in the workplace that hopefully will motivate them to work harder to make money for the business.
bronze package: $1,495
Light up your big day with our Bronze package. Our professional sound system offers plenty of sound for up to 150 guests for 5 hours. The added LED uplights will provide the perfect colors for your formalities. Then, when it's time to dance, everything can be synchronized to follow your favorite music. We'll bring the room, and your party, to life!
SILVER PACKAGE: $1,995
Take your big day up a notch with our Silver package. It includes enhanced sound for up to 250 guests for 5 hours. In addition, you'll receive additional vibrant dance lights and uplights on top of our Bronze package. They'll bring extra energy, and fun, to your celebration!
GOLD PACKAGE: $2,495
Make your day an EVENT with our Gold Package. Turn your reception into a private club for you and all your friends and family! Not only will you have enough sound for up to 500 guests, but you'll also get our biggest and best light show.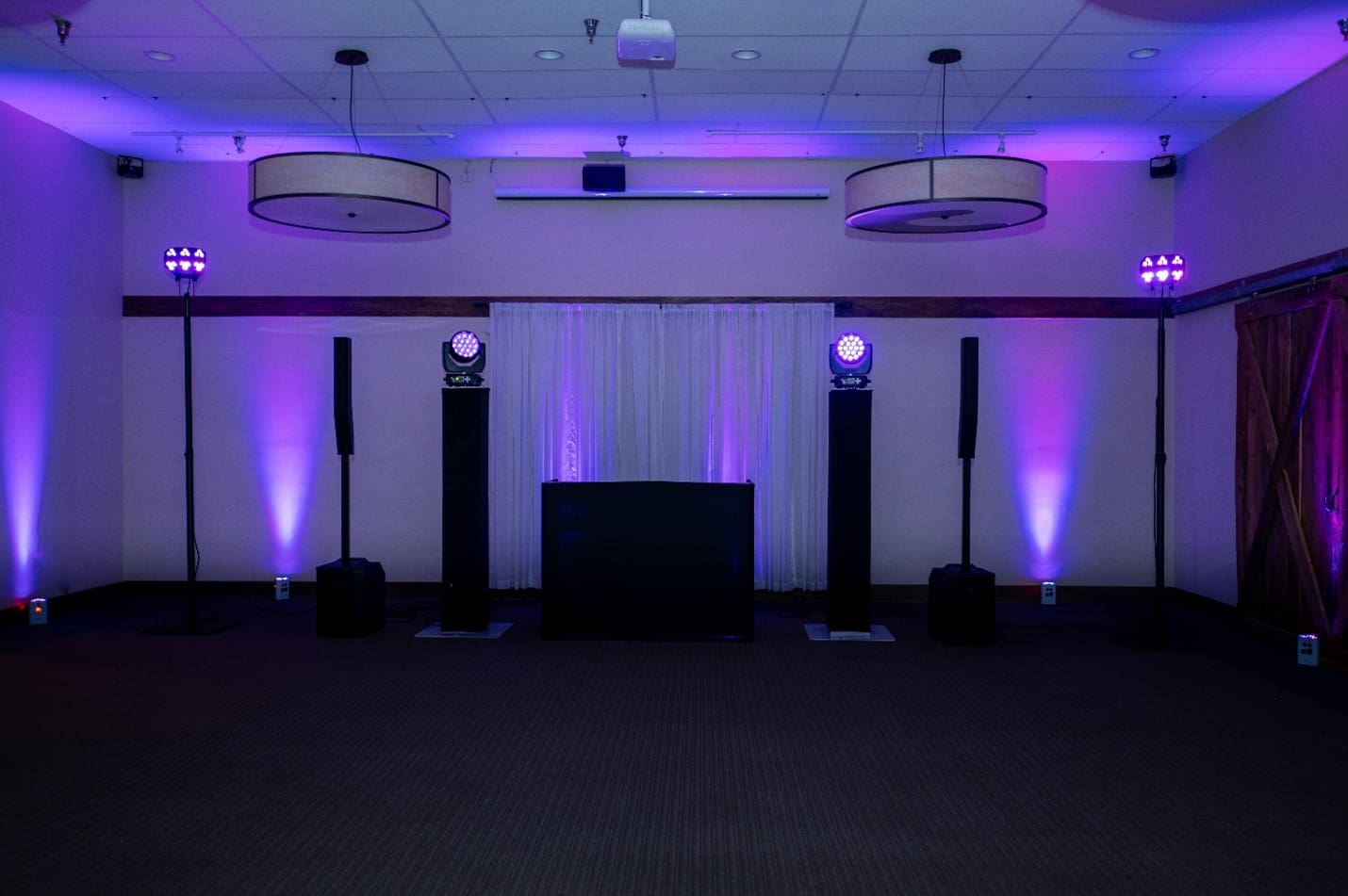 Fun Add-ons: Ask us for a quote
Event Space: Lanavona, FB @lanavona, IG @La_Navona
Photo Credit: Small Town Photography @smalltownphotographyllc on FB, @smalltownphotographyohio on IG
Additional options & pricing
CEREMONY
Standard – $300
Two – Three Microphones
With Reception Only
One Speaker
Deluxe – $500
Two – Three Microphones
With or Without Reception
Two Speakers
Retro Ceremony and Cake Reception – $795
Ceremony and Lounge
Three Hours
Two Systems
PHOTO BOOTH
Choose Enclosed or Open Air
Three Hours – $595
Four Hours – $675
Five Hours – $755
Social Media Kiosk Option is Available

D&M DJ Entertainment
dandmdjentertainment.com
670 Meridian Way•Suite 248•Westerville Ohio 43082