Dear Dave,
Sarah and I wanted to take the time to personally thank you for helping make our wedding in September a special one. We very much appreciated your attention to detail and taking the time to meet with us and the event staff to ensure that the day went smoothly and was exactly what we wanted. We also appreciate the correspondence through email and all the suggestion that you made along the way. The actual day of the wedding was a blur and went extremely fast as you said it would during our meetings. We were very grateful that you were so detail oriented and knowledgeable on the ins and outs of how things should be arranged for proper timing and organization on our wedding day and for your impeccable timing when it came time for us to do the traditional milestones throughout the evening. Your professionalism and oversight helped to insure that things did not drag on and that all who attended had a great time. In closing we just want you to know that we could not have found a better DJ/MC anywhere in Central Ohio and you were a large part of making our ceremony and reception a successful one. Thanks for everything!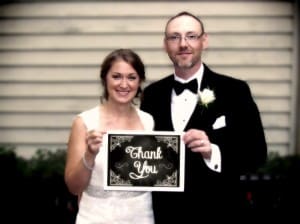 Sincerely,
Finding the right DJ for an event like ours was incredibly tricky. Our venue was full of technical and spacial restrictions. There was no wireless access so they needed to be self-contained and with more guests than the space was designed for meant there was little room for equipment. To top things off this was the first time we've ever planned an event like ours.
Some mutual friends introduced us to David and thank hid they did!
David's 33 years of DJing experience were all called upon as he helped us navigate through all of the different planning phases. David helped us choose the right sound system (we went with the BOSE), helped us plan the set list, schedule the various dances and customize our announcements to add a little personal flare!
We met several times prior to our big day to discuss music choices—we are pretty specific in our music. David was able to find and incorporate all of the obscure requests.
From the time he arrived at the venue he was a huge help with keeping our guest and volunteers entertained and delivering messages to the group.
The reception went without a hitch! David was able to fit in additional guest requests and fun dances in addition to all the standards. The sound quality was astounding—I can't say enough about that, a full range of highs and lows that carried across the venue without overpowering the guest's conversations.
David was able to provide all this for a fair price, with timely reminders and friendly confidence that impressed us all!
We gladly recommend David Kurtz to anyone looking for an excellent DJ with years of experience who is professional and open to new ideas and custom solutions.
Cheers!